First of all --- THANK YOU to Dave G!!!!!!!!!!!!!!!!!!!!!
Thanks to this gentleman I was able to get my paws on the great new Big Finish "Dark Eyes" 8th Doctor figure. A repainted 9th Doctor figure ... yes ... but still a really welcome and unexpected surprise addition to my McGann army.  
But you know, it's a shame he came with no accessories.
As we all know, the "official" Dark Eyes costume had a satchel and bronzey sonic screwdriver, as seen here:
For a few years I had been contemplating making a custom Dark Eyes 8, and had been collecting various bits and bob pieces I would need, including the accessories. The biggest problem was finding stuff in the same scale as the 5" line. First up was the bronze and wood steampunk sonic: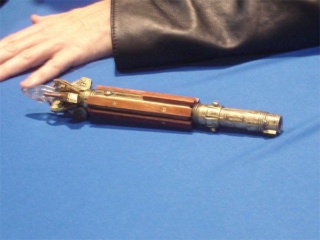 I had some ideas on how to mimic the screwdriver, such as using an 11th Doctor sonic and painting it brown. But then I stumbled across this nifty Lego sonic screwdriver on ebay: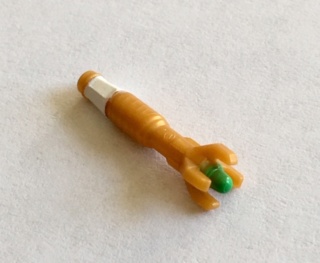 It's practically the same length as a regular Character Options sonic accessory, although slightly thicker. And I loved that the color was already a sort of off-gold shade ... not sure why they made them like that instead of grey plastic! But it seemed fortunate, because this way the color could mimic the steam-punk bronze AND I would not have to worry about paint rubbing off on the figure's hand from a modified re-painted screwdriver.  
Of course it wouldn't be an exact match, because the Dark Eyes sonic has 6 little "wings" or "flaps" or flange things around the tip, and every other one is either pointing up or down. At certain angles it almost creates this weird "X" appearance around the top.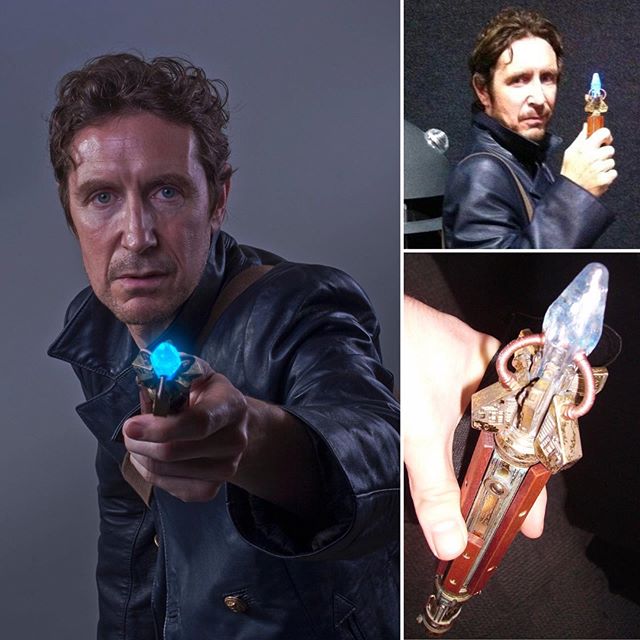 Anyway, needless to say I wasn't gonna be able to replicate THAT ... I only had 4 flange things to work with on the Lego sonic! So I sort of compromised by cutting them off at like a 45-degree angle, so they instead make up sort of "triangle" shaped wing pieces around the top. I'm happy with it.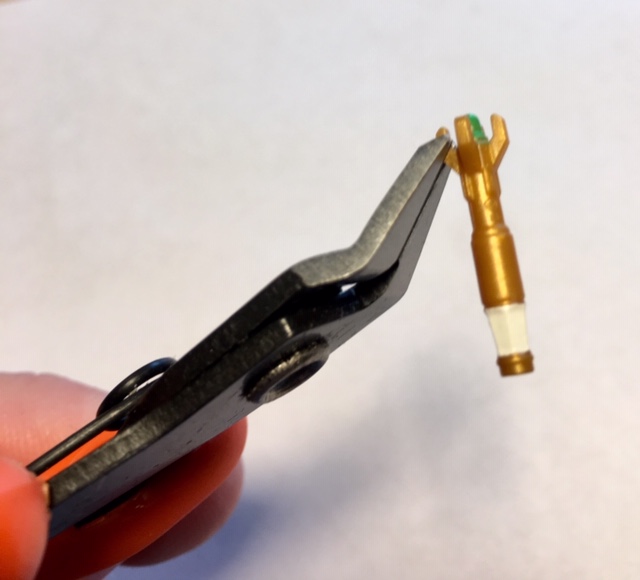 Then I repainted the tip to a light blue to better match the Dark Eyes prop.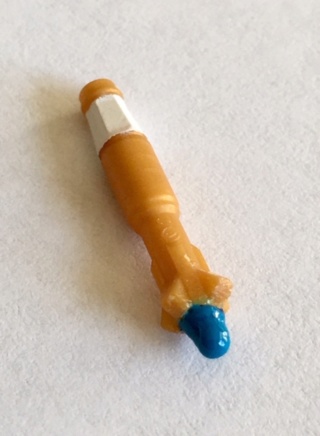 Again not perfect, but hey! It works for me! I think it looks great with the new figure. And again no danger of paint rubbing off on the hands: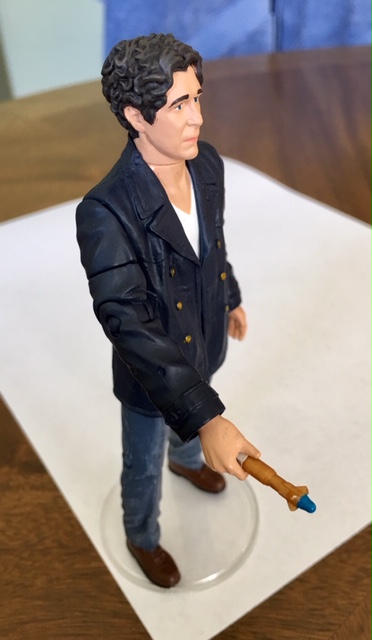 Then of course the #2 accessory for the "Dark Eyes" 8th Doctor is ... sigh ... the satchel. The carry-all. The man-bag. Thanks Paul.
Oh well ... least it's not a back-pack!
Of course the PERFECT satchel, the one that is guaranteed to be in the same scale as the Character Option 5" Doctor Who figures, is the green satchel that came with the Primeval Connor Temple figure: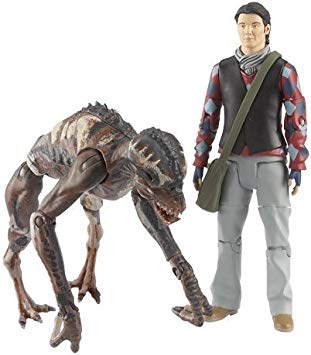 But try -- I tell you -- TRY to find that on ebay!! It ain't happening!!
Once Doctor Who customizers the world round realized that the Primeval satchel was the perfect addition to a Dark Eyes McGann the little sacks just vanished from ebay overnight. It quickly became the holy grail accessory.
So I searched a lot online for another suitable toy satchel or mailbag or even a purse that would work in the 5" Character Option scale. Which I learned is technically considered the 1:12 or 1/12 scale.
And I didn't have a lot of luck ... there are a lot of cool-looking satchel accessories out there, but they were either too small (like for a 3-inch GI Joe range) or too large (lots of cool military bags for 12-inch figures .. but too massive for the 5" Dr Who figures.)
Then I stumbled upon this Green Goblin figure ... it's about 6 inches tall, kind of wacky-looking, but notice it comes with TWO satchels:
One of the satchels is sort of larger and has a more bizarre "comic" detailed strap ... but the second one, the smaller one, is more plain and simple. But I've found that it actually works GREAT on the McGann figure: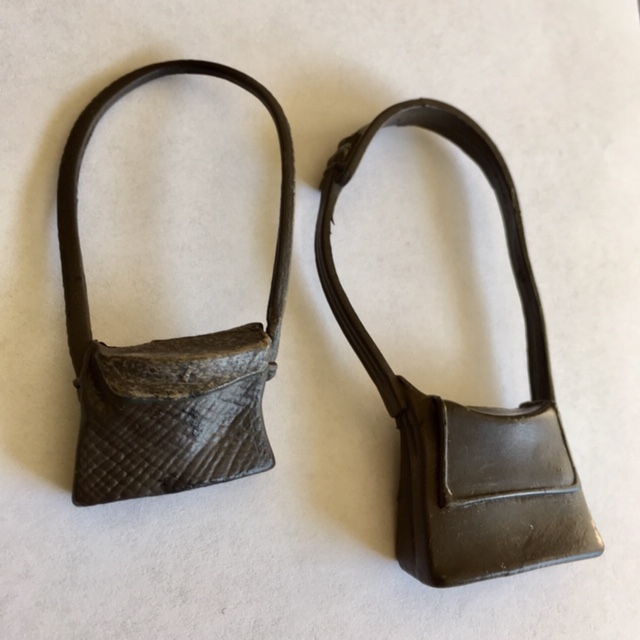 Here it is on my spokes-model Paul: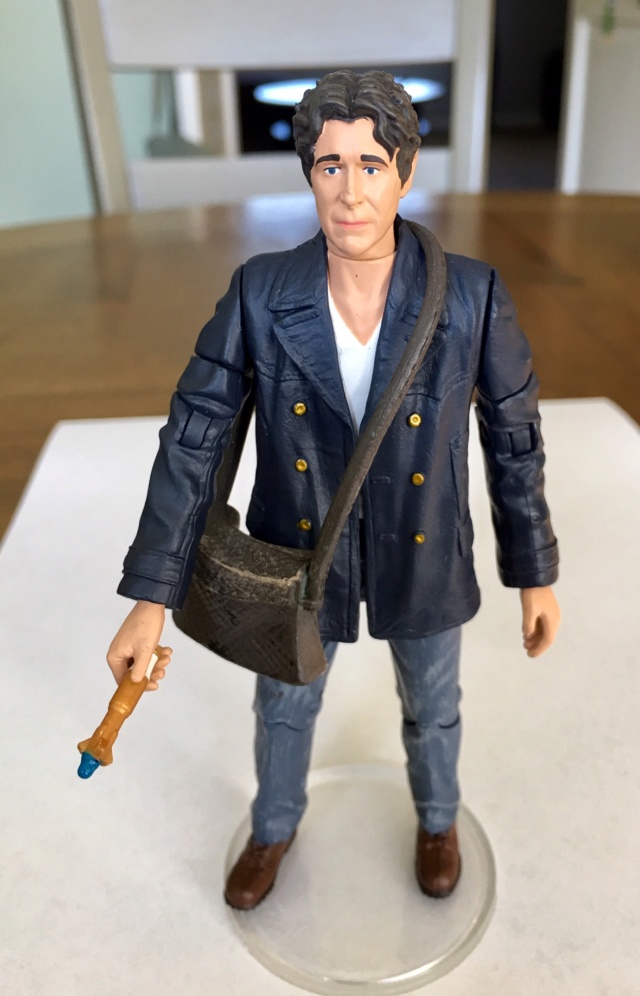 Just for comparison's sake here is the larger Green Goblin bag on the figure ... it's just a tad too large and cumbersome. Which is a shame because the larger bag has a better looking flap I think, but the smaller of the two really fits better in terms of scale.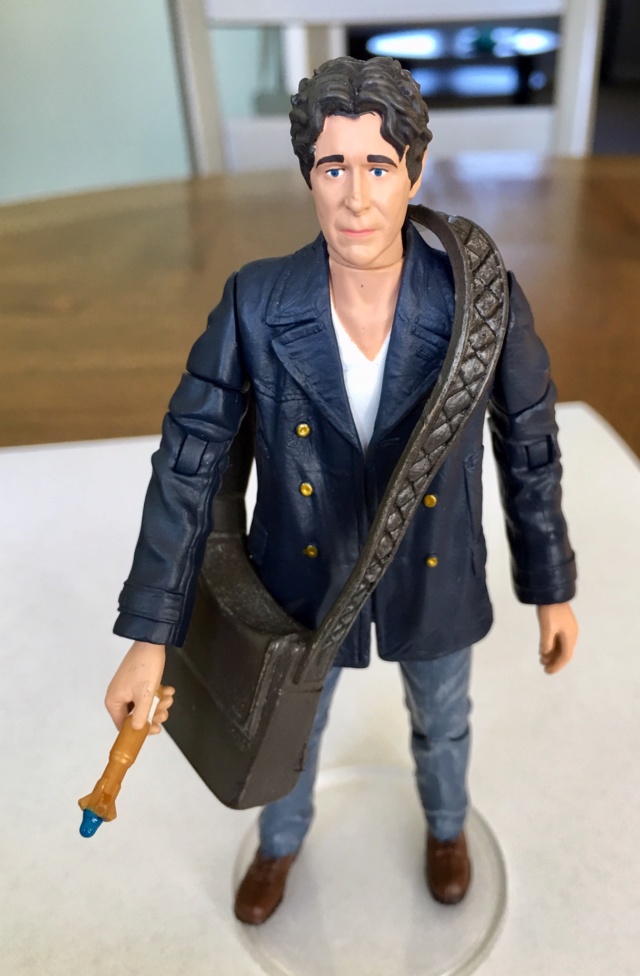 If you want to seek out this Green Goblin figure you can find them loose on ebay usually under $8 (unless of course this catches on and every customizer jumps on this bag too!)
Make sure they have the bags though, some are figure-only. I've seen them listed with key words like  "Marvel Legend" and "Unleashed" and "Spider-Man Classics", and the year is usually listed as "2008", but I honestly can't figure out what the official real name of this particular figure is. Sorry I can't steer you into a more exact search. I did find a picture of the packaging, but it doesn't offer many clues: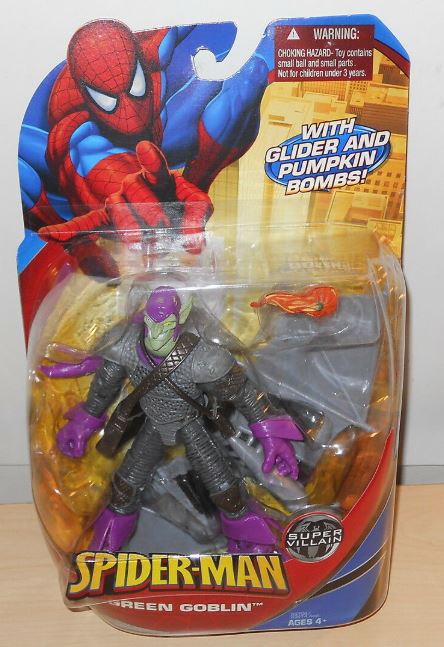 Anyway, I think Green Goblin figures at the 1:12 or 5-6 inch scale will be a pretty good source for McGann-bags because the bomb-satchel is sort of a key design element to the Green Goblin character. And I've noticed other Green Goblin figure lines with different sculpts and a single but good-looking bag, but I can't verify the scale will match Character Options. Love to hear from others if they investigate!  
As for now, I'm pretty darn happy with the compromise. I love this Dark Eyes 8th Doctor!
And again, I really want to thank Dave G for helping me get this figure. Why can't North America get these?!?!?!?
Bless you Dave G!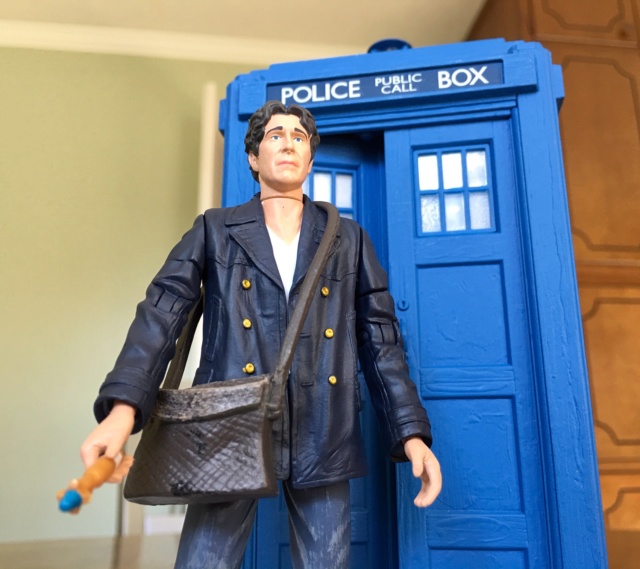 --