Okay, I've started this topic so you can review the 5" figures. Today I will be reviewing: 'Series 1' Rose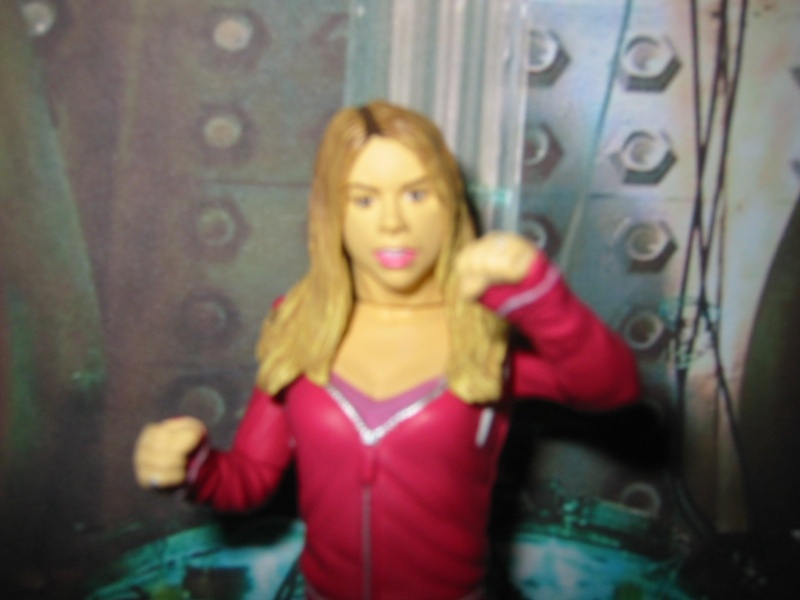 Welcome everyone to the first review (Hopefully of many) by DoctorOlly. Today I will be reviewing 'Series 1' Rose. As you can see her hair has brown-ish highlights in it which I quite like (I do not like the new Series 1 Rose where it has really blonde hair, it doesn't look right, to me anyway!) she wears a pink coat and on the back of it says 'Rose'
Okay, onto arculation. She has arclation in her elbows, but not like other figures, the arculation in her elbows make them move side-ways, a lot like the arculation in her shoulder, which makes her shoulders move up and down. She has arculation in her waist which means you can turn her torso/legs, also you can move her legs backwards and forwards, the only main problem with the arculation in the legs is that the legs have to be in a certain postion for her to stand. I would give the arculation: 7/10 as you can't bend her knees or elbows
.
Onto the outfit. I like the outfit, which she wore in 'Rose'. The Rose figure wears blue demin jeans, a pink jacket and a dark pink top underneath the jacket. She also wears a few rings. I give the outfit: 8/10.
Okay, the paint job. I like the paint, although the colour of her skin is a weird colour, otherwise its quite good. I'll give the paint an... 8/10.
Overall, its an okay figure. I'll give the overall figure an: 7 and a half/10, the figure doesn't look like Rose. If anyone wants a Rose I would say go for the 'Series 2/New Earth' Rose, which I will be reviewing on the 23rd of September, so look out for that! The next review will be on the 9th September (Tomorrow) and the figure I will be reviewing is one of my favourite figures: The Slitheen!
Rose Tyler is played by Billie Piper.
Thanks for reading!