Have Your Doctor Who Toys Soared In Value?
By Meredith Burdett, July 2, 2013
How many of you reading this article is sitting on a personal goldmine? Before you scoff, try not to, as you may very well be doing just that.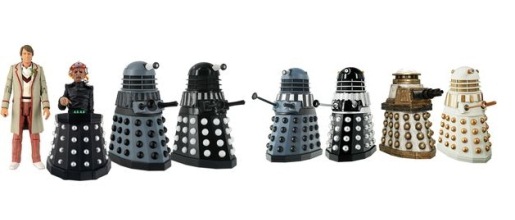 We learn this week in a Telegraph article that certain toys and collectibles from not so long ago are now retailing in the collectible market for very tidy sums of money indeed. We don't even have to go back that far, if you have toys or collectibles from the 1960's, 1970's or even 1980's, you might want to have them valued as they could be worth a lot more than you think.
According to the research that comes from Zurich:
The average value of items stored in lofts is £584.00.
And that's not just Doctor Who collectibles; we're talking about Action Man figures, Barbie dolls, Star Wars and even Lord of the Rings toys could be appreciating value in your house as you read this.
However, the rules have to be obeyed as John Ennals, owner of website Tortoys.co.uk, explained:
I get calls from people saying they have extensive collections they bought in the Nineties. I have to tell them they are worth a fraction of what they paid for them: it is the fact that toys could have been played with, lost or damaged that makes them valuable.
So perhaps you've got a Dalek or a TARDIS or a Seventh Doctor figure that you used to create your own stories with and have been gathering dust on a shelf for the last 20 years. If so, you might want to take another look at it and see if it's worth anything, it could just be your ticket for an extra holiday this year!
TOP PRICE TOYS
• Tinplate HMS Terrible made by Marklin in 1905 sold for £76,000 last year – probably the most expensive toy ever sold in the UK
• Prototype of GI Joe made in 1963 sold for $200,000 10 years ago
• A Barbie doll with a diamond necklace sold for $302,500 in 2010
• A Steiff teddy bear dressed by Louis Vuitton sold for $195,000 in 2000
CASH IN THE ATTIC? TOYS WORTH DIGGING OUT
• Original (Seventies/Eighties) Star Wars figures
• Dapol and Denys Fisher Dr Who characters from the Seventies
• Handheld electronic games from the Eighties
• Toys given away by fast-food outlets
• Thunderbirds puppets from the Sixties or early Seventies
• Original Barbie and Action Man costumes
• Hornby trains
• Dinky cars and other die-cast models