Good morning all! I haven't posted in a LONG time ('bout a decade!), due to divorce, job changes, moving, etc. Couldn't seem to find the time. But, I have continued collecting all of the 5.5"
Doctor Who
toys that CO has been churning out over the years. Now that I am in a fairly permanent address--and now that CO's 5.5" output has slowed to a crawl--I have decided to start displaying my figures and accessories!
I've only completed my display of Classic
Who
so far, but I'm getting there... I'm using some of the standard Mainstay-Brand shelving units/bookcases from Wal-Mart, slightly modified, to display them. To give a multi-level effect, I've been 3D-printing some hexagonal platforms. The platforms take a LONG time to print, so it's probably going to take me another six months to print enough to accommodate the 9th-12th toys.
But please--take a look at what I've got so far...

This is a full pic of all my shelves and toys, but the only shelves of any consequence are the ones comprising the left "wing." The stuff in the middle and right are just awaiting some display hexes and some proper arrangement: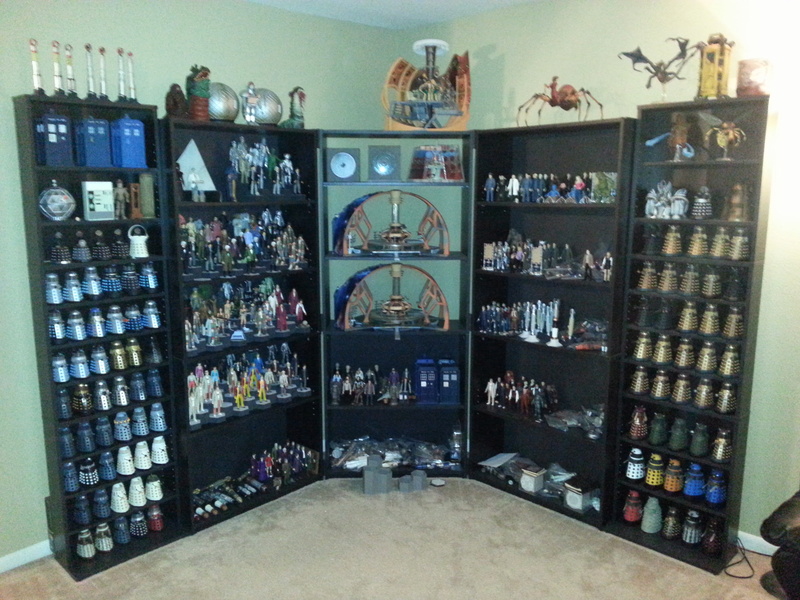 More to come!